White Ivy: A Novel (Paperback)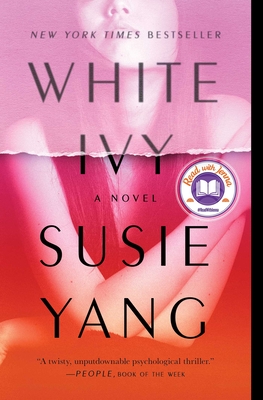 Find us on Bookshop.org to order!
Staff Reviews
---
Captivating from the first page, White Ivy is both a literary endeavor and a slow burning page turner. We follow Ivy from childhood, as she navigates her identity, never quite reconciling who she wants to be and who she really is. The story is often chilling, but surprisingly relatable, as Ivy engrosses herself deeper and deeper into a world that she's not a part of.
— Courtney F.
November 2020 Indie Next List
---
"Ivy Lin's unassuming looks and demeanor hide a dark side. She is obsessed with the wealth and privilege she sees around her and will cross boundaries to get what she needs — most of all, the object of her teenage affection. Susie Yang crafts a brilliant and mesmerizing tale that gives readers an intimate look into the experience of immigrants. Well-written prose, excellent characters, and a surprising turn of events will keep readers hooked until the end — and it is a doozy."
— Pamela Klinger-Horn, Excelsior Bay Books, Excelsior, MN
Description
---
"A truly addictive read" (Glamour) about how a young woman's crush on a privileged former classmate becomes a story of love, lies, and dark obsession, offering stark insights into the immigrant experience, as it hurtles to its electrifying ending in this "twisty, unputdownable, psychological thriller" (People).

Ivy Lin is a thief and a liar—but you'd never know it by looking at her.

Raised outside of Boston, Ivy's immigrant grandmother relies on Ivy's mild appearance for cover as she teaches her granddaughter how to pilfer items from yard sales and second-hand shops. Thieving allows Ivy to accumulate the trappings of a suburban teen—and, most importantly, to attract the attention of Gideon Speyer, the golden boy of a wealthy political family. But when Ivy's mother discovers her trespasses, punishment is swift and Ivy is sent to China, and her dream instantly evaporates.

Years later, Ivy has grown into a poised yet restless young woman, haunted by her conflicting feelings about her upbringing and her family. Back in Boston, when Ivy bumps into Sylvia Speyer, Gideon's sister, a reconnection with Gideon seems not only inevitable—it feels like fate.

Slowly, Ivy sinks her claws into Gideon and the entire Speyer clan by attending fancy dinners, and weekend getaways to the cape. But just as Ivy is about to have everything she's ever wanted, a ghost from her past resurfaces, threatening the nearly perfect life she's worked so hard to build.

Filled with surprising twists and a nuanced exploration of class and race, White Ivy is a "highly entertaining," (The Washington Post) "propulsive debut" (San Francisco Chronicle) that offers a glimpse into the dark side of a woman who yearns for success at any cost.
About the Author
---
Susie Yang was born in China and came to the United States as a child. After receiving her doctorate of pharmacy from Rutgers, she launched a tech startup in San Francisco that has taught 20,000 people how to code. She has studied creative writing at Tin House and Sackett Street. She has lived across the United States, Europe, and Asia, and now resides in the UK. White Ivy is her first novel.
Praise For…
---
Named one of the Best Books of 2020 by USA Today (4 Stars) | one of the Most Anticipated Books by Entertainment Weekly, O Magazine, Time Magazine, Glamour, Vogue, The Washington Post, Buzzfeed, ABC News, Bustle, Lit Hub, Newsday, The Millions, Town & Country, Refinery 29, Shondaland, Crime Reads

Longlisted for the Center for Fiction's First Novel Prize

"A twisty, unputdownable psychological thriller. Clear your schedule." — People, Book of the Week

"A truly addictive read." — Glamour

"There's nothing better than a novel with an unpredictable plot. And White Ivy, Susie Yang's debut novel... is exactly that." — USA Today (4 out of 4 stars)

"White Ivy is an enthralling, thrill of a book. It is fascinating to spend time inside Ivy's mind, unique and unapologetic in its bold (and often bad) decisions. A story of many cultures both clashing and converging, White Ivy's many twists and turns will surprise you until the very last page." — Molly Sprayregen, Associated Press

"Susie Yang delves into class warfare and deceit in the season's biggest debut" — Entertainment Weekly

"The genius of White Ivy is that each plot point of the romance is fulfilled but also undercut by a traumatic pratfall, described in language as bright and scarring as a wound." — The Los Angeles Times

"The modern story of clashing cultures and classes already reads like Crazy Rich Asians meets Donna Tartt's A Secret History meets Paul's Case, Willa Cather's classic story of a desperate middle-class climb. But White Ivy, the propulsive debut novel by Susie Yang, is more than plot twists and love triangles. It's also an astute chronicle of cultures, gender dynamics and the complicated business of self-creation in America." — San Francisco Chronicle

"Susie Yang's White Ivy cleverly overturns the 'model minority' stereotype with a deliciously twisty story that will leave you breathless." — Real Simple

"A highly entertaining, well-plotted character study about a young woman whose obsession with the shallow signifiers of success gets her in too deep." — The Washington Post

"Yang excels at drawing sharp characters, making excruciating observations about class, family, and social norms, and painting the losses of migration and struggles Asians and other immigrants face in America. An easy page-turner... the cutting prose movingly portrays many layers of tribulation and traumas, and marks Yang as a voice to watch." — Boston Globe

"Susie Yang's White Ivy Is The Talented Mr. Ripley for the Instagram Age" — Bustle

"White Ivy has it all — it's a coming of age story, a love triangle rich in complications of race and class, and though it offers the pleasures of a literary novel such as complex characters and interesting writing, it also has the attractions of a psychological thriller: jaw-dropping plot twists and an unpredictable ending... [This is a ] sharply observed and boldly imagined novel." — Star Tribune

"Yang's dark, spellbinding debut gives insight into the immigrant experience and life in the upper class, challenging the stereotypes and perceptions associated with both. The surprising twists, elegant prose, and complex characters in this coming-of-age story make this a captivating read." — Booklist (starred review)

"What begins as a story of a young woman's struggles to assimilate quickly becomes a much darker tale of love, lies, and obsession, in which there are no boundaries to finding the fulfillment of one's own dreams. Yang's skill in creating surprising, even shocking plot twists will leave readers breathless." — Library Journal (starred review)

"In Ivy, Yang has created an ambitious and sharp yet believably flawed heroine who will win over any reader, and the accomplished plot is layered and full of revelations. This is a beguiling and shattering coming-of-age story." — Publishers Weekly

"The intelligent, yearning, broken, and deeply insecure Ivy will enthrall readers, and Yang's beautifully written novel ably mines the complexities of class and privilege. A sophisticated and darkly glittering gem of a debut." — Kirkus Reviews

"Electrifying... Part immigrant story, part elitist takedown, part contemporary novel of wicked manners, White Ivy is an unpredictable spectacle... Ivy Lin proves to be the antihero readers will love to hate in debut novelist Susie Yang's assured, deft, biting novel of (manipulative) manners." — Shelf Awareness (starred review)

"Yang takes a character who is a confessed thief from the first page, and etches her with qualities that turn her into a complex, layered, and unpredictable character."— Chicago Review of Books

"It's a testament to Susie Yang's skill that she can explore and upend our ideas of class, race, family, and identity while moving us through a plot that twists in such wonderful ways. But none of that would matter nearly as much if not for the truly unforgettable narrator, Ivy, who is so hypnotic, the way her voice feels both wild and controlled. She ran right through me." — Kevin Wilson, New York Times bestelling author of Nothing to See Here

"White Ivy is dark and delicious. Ivy Lin eviscerates the model minority stereotype with a smile on her lips and a boot on your neck. Cancel your weekend plans, because you won't be able to take your eyes off Ivy Lin." — Lucy Tan, author of What We Were Promised

"White Ivy is magic and a necessary corrective both to the stereotypes and the pieties that too easily characterize the immigrant experience. Most pleasing of all is the story of Ivy Lin, a daring young woman in search of herself, and not soon to be forgotten." — Joshua Ferris, prize-winning author of To Rise Again at a Decent Hour

"Elegant and terrifying, steely and sparkling, White Ivy is a propulsive story told with the satisfying simplicity of a classic." — Rebecca Dinerstein Knight, author of Hex

"Bold, daring, and sexy, White Ivy is the immigrant story we've been dying to hear. Rather than submit to love, Ivy seeks it out, sinks her teeth into it, and doesn't let go. A stunning debut." — Neel Patel, author of If You See Me, Don't Say Hi