St. Joseph New Catholic Bible New Testament (Imitation Leather)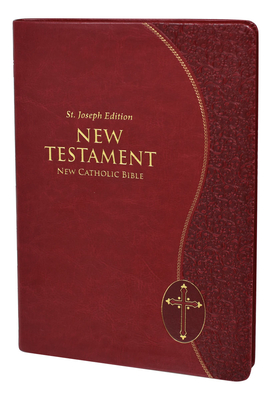 $17.95
Not currently in store. Available to ship from distributor's warehouse.
Description
---
This Study Edition of the New Testament of the complete St. Joseph New Catholic Bible (NCB) is a worthy introduction to this fresh, faithful, and reader-friendly translation. Rich and plentiful explanatory footnotes offer meaningful insights to readers.
This edition, intended to be used by Catholics for daily prayer and meditation, as well as private devotion and group study, comes in a convenient 6-1/2" x 9-1/4" format with 10-pt. type in an easy-to-read font. It features gold page edging, a single satin ribbon, and is durably and attractively bound in flexible gold-stamped burgundy Dura-Lux.
Noteworthy Features
Dogmatic Constitution on Divine Revelation
Learning about Your Bible
Study Guide to the Meaning and Message of the New Testament
List of the Miracles of Jesus during His Public Life
List of the Principal Parables of Jesus
Over 40 Photographs, Illustrations, and Maps
Words of Christ in Red
Bible Dictionary
Doctrinal New Testament Index
List of the 3-Year Cycle of Sunday Gospels
List of Popes