Forever Struggle: Activism, Identity, and Survival in Boston's Chinatown, 1880-2018 (Paperback)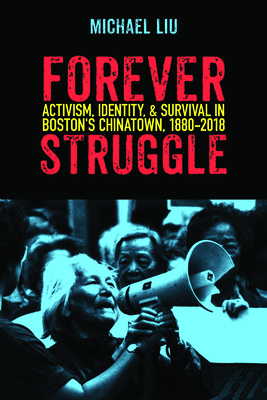 $32.34

Not currently in store. Available to ship from distributor's warehouse.
Description
---
Chinatown has a long history in Boston. Though little documented, it represents the city's most sustained neighborhood effort to survive during eras of hostility and urban transformation. It has been wounded and transformed, slowly ceding ground; at the same time, its residents and organizations have gained a more prominent voice over their community's fate. In writing about Boston Chinatown's long history, Michael Liu, a lifelong activist and scholar of the community, charts its journey and efforts for survival--from its emergence during a time of immigration and deep xenophobia to the highway construction and urban renewal projects that threatened the neighborhood after World War II to its more recent efforts to keep commercial developers at bay. At the ground level, Liu depicts its people, organizations, internal battles, and varied and complex strategies against land-taking by outside institutions and public authorities. The documented courage, resilience, and ingenuity of this low-income immigrant neighborhood of color have earned it a place amongst our urban narratives. Chinatown has much to teach us about neighborhood agency, the power of organizing, and the prospects of such neighborhoods in rapidly growing and changing cities.
About the Author
---
MICHAEL LIU is coauthor of The Snake Dance of Asian American Activism: Community, Vision, and Power and former senior research associate at the Institute for Asian American Studies at the University of Massachusetts Boston.