Where the Wild Ladies Are (Paperback)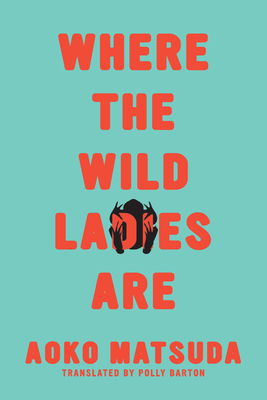 $16.95
Coming Soon - Available for Pre-Order Now
Staff Reviews
---
Japanese ghost stories with a feminist twist. These ghosts aren't the stereotypical "spooky" ghosts, which makes them all the better. They're real human beings with real personalities and stories (yes, even the cat and toad!). Matsuda manages to make you connect and empathize with each story because each character is just trying to find their place in their world, whether that be Earth or otherwise. This book made me laugh, reflect, and consider the abstract rules of the world (and what I will be like when I'm a ghost).
— Hannah Z.
Description
---
In this witty and exuberant collection of feminist retellings of traditional Japanese folktales, humans live side by side with spirits who provide a variety of useful services--from truth-telling to babysitting, from protecting castles to fighting crime.
A busybody aunt who disapproves of hair removal; a pair of door-to-door saleswomen hawking portable lanterns; a cheerful lover who visits every night to take a luxurious bath; a silent house-caller who babysits and cleans while a single mother is out working. Where the Wild Ladies Are is populated by these and many other spirited women--who also happen to be ghosts. This is a realm in which jealousy, stubbornness, and other excessive "feminine" passions are not to be feared or suppressed, but rather cultivated; and, chances are, a man named Mr. Tei will notice your talents and recruit you, dead or alive (preferably dead), to join his mysterious company.
In this witty and exuberant collection of linked stories, Aoko Matsuda takes the rich, millenia-old tradition of Japanese folktales--shapeshifting wives and foxes, magical trees and wells--and wholly reinvents them, presenting a world in which humans are consoled, guided, challenged, and transformed by the only sometimes visible forces that surround them.
About the Author
---
AOKO MATSUDA is a writer and translator. In 2013, her debut book, Stackable, was nominated for the Yukio Mishima Prize and the Noma Literary New Face Prize. Her novella The Girl Who Is Getting Married was published by Strangers Press in the UK in 2016. In 2019, her short story "The Woman Dies" was shortlisted for a Shirley Jackson Award. She has translated work by Karen Russell, Amelia Gray, and Carmen Maria Machado into Japanese. POLLY BARTON is a translator of Japanese literature and nonfiction, currently based in Bristol, UK. Her book-length translations include Friendship for Grown-Ups by Nao-cola Yamazaki, Mikumari by Misumi Kubo and Spring Garden by Tomoka Shibasaki. She has translated short stories for Words Without Borders, The White Review, and Granta. After being awarded the 2019 Fitzcarraldo Editions Essay Prize, she is currently working on a nonfiction book entitled Fifty Sounds.