Dear Senthuran: A Black Spirit Memoir (Hardcover)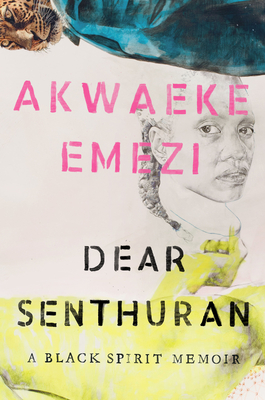 Find us on Bookshop.org to order!
Staff Reviews
---
This is easily one of the most beautiful, haunting, and evocative works of writing I have ever read. Emezi's memoir takes the form of a series of intimate letters to loved ones, idols, and other people in their life, exploring how each relationship has helped shape Emezi's understanding of their physical, emotional, and spiritual selves. Emezi is unsparing and uncompromising in exploring the intricacies of their gender, body, race, relationships, career, and more, all founded on Emezi's understanding of themself as an embodied spirit in, but not of, this world. In vivid, ethereal prose, Emezi is reinventing the memoir. 
— Allison S., Bookseller
Description
---
FEATURED ON THE COVER OF TIME MAGAZINE AS A 2021 NEXT GENERATION LEADER

"A once-in-a-generation voice." – Vulture

"One of our greatest living writers." – Shondaland

A full-throated and provocative memoir in letters from the New York Times bestselling author, "a dazzling literary talent whose works cut to the quick of the spiritual self" (Esquire)

In three critically acclaimed novels, Akwaeke Emezi has introduced readers to a landscape marked by familial tensions, Igbo belief systems, and a boundless search for what it means to be free. Now, in this extraordinary memoir, the bestselling author of The Death of Vivek Oji reveals the harrowing yet resolute truths of their own life. Through candid, intimate correspondence with friends, lovers, and family, Emezi traces the unfolding of a self and the unforgettable journey of a creative spirit stepping into power in the human world. Their story weaves through transformative decisions about their gender and body, their precipitous path to success as a writer, and the turmoil of relationships on an emotional, romantic, and spiritual plane, culminating in a book that is as tender as it is brutal.

Electrifying and inspiring, animated by the same voracious intelligence that distinguishes Emezi's fiction, Dear Senthuran is a revelatory account of storytelling, self, and survival.
About the Author
---
Akwaeke Emezi (they/them) is the author of the New York Times bestseller The Death of Vivek Oji, which was longlisted for the Dylan Thomas Prize; Pet, a finalist for the National Book Award for Young People's Literature; and Freshwater, which was named a New York Times Notable Book and shortlisted for the PEN/Hemingway Award, the New York Public Library Young Lions Fiction Award, the Lambda Literary Award, and the Center for Fiction's First Novel Prize. Selected as a 5 Under 35 honoree by the National Book Foundation, they are based in liminal spaces.
Praise For…
---
NAMED A BEST BOOK OF THE YEAR BY TIME, VULTURE, MARIE CLAIRE, TEEN VOGUE, LIT HUB, AUTOSTRADDLE, BOOKPAGE, BOOKRIOT, AND THEM

PRAISE FOR DEAR SENTHURAN:

"A thing of great beauty . . . Dear Senthuran is about powerful excellence, especially the excellence that appears in bodies that aren't white and aren't male. Emezi is changing the world and our reaction to this kind of power."  —The Paris Review

"An audacious sojourn through the terror and beauty of refusing to explain yourself." —New York Times Book Review

"Written in imagistic language that is both poetic and crystalline, Dear Senthuran is an honest and lyrical accounting of a boundless mind exploring the wide expanse of creativity and experience. Authentic and vulnerable, the writing winds through the depths of wrenching wounds, but also explores the beauty in not pretending to be less that one truly is." —NPR

"A book about shifting, letting go, rebirth . . . Dear Senthuran is not 'self help,' per se, but because of Emezi's generosity, it is a balm to the spirit, a reminder that the only certainty is that of change." —Vanity Fair

"A singular memoir." —USA TODAY

"A complex, innovative work of hybrid memoir [from] one of contemporary literature's most engrossing talents." —Elle

"Emezi is pouring luminous light onto all of their selves, their incarnations, their spirit, their fractures, and the potency of their existence." —Joss Lake, Bustle

"Akwaeke Emezi is pure magic. Dear Senthuran is a song, an adventure, a wound, and a balm all in one. . . . Akwaeke's ability and willingness to bare their soul is a treasure that we don't deserve." —BuzzFeed

"Fiery and diamond-hard, written by a once-in-a-generation voice." —Vulture
 
"Gorgeously written, lush, and full of confidence as well as struggle." —BookRiot, Best Genre-Bending Nonfiction of 2021

"Akwaeke Emezi opens a portal into the brutality and beauty of their own self-creation and [reveals] the immense potency of their spiritual existence." —Electric Literature

"A memoir that transcends expectation and challenges readers to explore our own flesh and spiritual multiplicities." —Them

"The brilliant Akwaeke Emezi candidly shares their reflections on gender, embodiment, queerness, creativity and relationships with the same fierce dedication and candor that defines their bestselling novels." —Ms. Magazine

"A memoir in letters, to various friends, lovers and family in Emezi's life. . . . It's like no memoir I've ever read before—in the best possible way." —Alma

"An illuminating account of storytelling, self, and survival." – Lambda Literary

"A must-read memoir about creativity and identity." —Bustle

"Refreshing. . . . there are no wasted words. Everything Emezi writes holds importance and deserves space. . . . They have created an entire universe within themselves [and] share with the readers." – Real Change

"Hypnotic and poetic . . . In Dear Senthuran, Emezi generously shares both their wounds and their wisdom, offering aspiring writers and artists fresh inspiration for creating new forms of making, loving and being." —Bookpage (starred review)

"Spellbinding . . . a gorgeous epistolary memoir [with] consistently captivating prose." —Publishers Weekly

"Fiery. . . . a remarkable memoir by a writer who doesn't shy away from sharing their ambitions or their vulnerabilities." —Booklist

"A unique, visceral memoir. . . . Tribal spiritual beliefs meet contemporary literary acclaim in a powerful memoir." —Kirkus

"An intimate, disarming diary of transcendence, of wielding magic hidden deep within the marrow of our bones, and the spells we cast when we obey the work of honoring the unpretty truths of one's beginnings, Dear Senthuran is a swan song of survival written for survivors everywhere." —Paperback Paris

PRAISE FOR AKWAEKE EMEZI:
 
"[One] of our greatest living writers." —Shondaland
 
"Akwaeke Emezi parts the seas of the self."  —Vanity Fair
 
"Remarkably assured and graceful . . . encourage[s] us to embrace
a fuller spectrum of human experience." —The Washington Post
 
"Emezi has a gift for prose that is often as visceral,
tender and heartbreaking  as what it describes" —The Guardian
 
"Extraordinarily powerful." —The New Yorker
 
"Dazzling." —Los Angeles Times
 
"A beacon of literary genius." —Lambda Literary Review
 
"Name a writer more essential to the recent landscape of contemporary fiction—and more prolific—than Akwaeke Emezi has been over the last five years. . . . I'll wait."
—Harper's Bazaar