The Picture of Dorian Gray and Three Stories (Mass Market)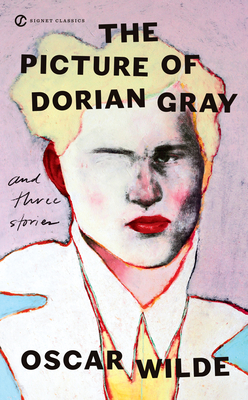 Description
---
A fashionable young man sells his soul for eternal youth and beauty in Oscar Wilde's fascinating gothic tale.

The Picture of Dorian Gray, Oscar Wilde's only full-length novel, is the enduringly eerie story of a naïve and irresistible young man lured by decadent Lord Henry Wotton into a life of depravity. Though Dorian is steeped in sin, his face remains perfect, unlined as years pass—while only his portrait, locked away, reveals the blackness of his soul. This timeless tale of Gothic horror and fable, reveling in the unabashed hedonism and cynical wit of its characters, epitomizes Wilde's literary revolt against the proprieties of the Victorian era.
 
Sharing this volume with The Picture of Dorian Gray are Wilde's clever and sophisticated story "Lord Arthur Savile's Crime" and two of his delicate fairy tales, "The Happy Prince" and "The Birthday of the Infanta."

With an Introduction by Gary Schnidgall
and an Afterword by Peter Raby
About the Author
---
Oscar Wilde (1854–1900) was born in Dublin, Ireland. He was an outstanding student of classics at Trinity College, and in 1874, he entered Magdalen College, Oxford, where he won the Newdigate Prize with his poem "Ravenna" (1878). An early leader of the Aesthetic Movement, which advanced the concept of "art for art's sake," Wilde became a prominent personality in literary and social circles. His volume of fairy tales, The Happy Prince and Other Tales (1888), was followed by The Picture of Dorian Gray (1891) and The House of Pomegranates (1892). However, it was not until his play Lady Windermere's Fan (1892) was presented to the pubic that he became widely famous. A Woman of No Importance (1893) and The Importance of Being Earnest (1895) confirmed his stature as a dramatist. In 1895, he brought libel action against the Marquis of Queensbury, who had accused him of the crime of sodomy. He lost, however, and was sentenced under the Criminal Law Amendment Act to two years' imprisonment with hard labor. Upon his release in 1897, he settled in France, where he wrote his most powerful and enduring poem, "The Ballad of Reading Gaol" (1898). Wilde never returned to England; he died in Paris.
 
Gary Schmidgall is the author of such acclaimed titles as The Strange Wilde: Interpreting Oscar and Shakespeare and The Poet's Life. He is professor of English at Hunter College.
 
Peter Raby has written extensively on modern drama and theater, and is the editor of the Cambridge Companion to Oscar Wilde. He is emeritus fellow of Homerton College, Cambridge. Among his other books are a biography of Alfred Russel Wallace and Bright Paradise, a study of Victorian scientific travellers.