The Liar's Dictionary: A Novel (Hardcover)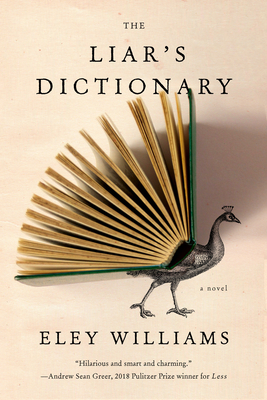 Staff Reviews
---
The Liar's Dictionary, (n1.) a crazy love story wrapped up in beautiful, absurd wordplay and poetic prose, (2.) a book with seriously gorgeous words that poetry fans may enjoy, (3.) what a beautiful, original jacket cover!
— Abby V.
January 2021 Indie Next List
---
"The Liar's Dictionary is an enormously charming novel about putting the world into words. Its two logophilic heroes, separated by a century, are unforgettable characters; I loved spending time with these word-curious creations. You'll be utterly transported by this playful and seriously funny book."
— John Francisconi, McNally Jackson City Point, Brooklyn, NY
Description
---
Winner of the 2021 Betty Trask Award
Shortlisted for the 2021 Desmond Elliott Prize

"An audacious, idiosyncratic dual love story about how language and people intersect and connect, and about how far we'll go to save what we're passionate about."—NPR

An exhilarating and laugh-out-loud debut novel from a prize-winning new talent that chronicles the misadventures of a lovelorn Victorian lexicographer and the young woman put on his trail a century later to root out his misdeeds while confronting questions of her own sexuality and place in the world.

Mountweazel n. the phenomenon of false entries within dictionaries and works of reference. Often used as a safeguard against copyright infringement.

Peter Winceworth, Victorian lexicographer, is toiling away at the letter S for Swansby's multivolume Encyclopaedic Dictionary. His disaffection compels him to insert unauthorized fictitious entries into the dictionary in an attempt to assert some sense of individual purpose and artistic freedom.

In the present day, Mallory, a young intern employed by the publisher, is tasked with uncovering these mountweazels before the work is digitized. She also has to contend with threatening phone calls from an anonymous caller. Is the change in the definition of marriage really that upsetting? And does the caller really intend for the Swansby's staff to 'burn in hell'?

As these two narratives combine, both Winceworth and Mallory discover how they might negotiate the complexities of the often nonsensical, relentless, untrustworthy, hoax-strewn, and undefinable path we call life. An exhilarating debut novel from a formidably brilliant young writer, The Liar's Dictionary celebrates the rigidity, fragility, absurdity, and joy of language.
About the Author
---
ELEY WILLIAMS is a Fellow of the Royal Society of Literature. She is the author of Attrib. and Other Stories, and her work has appeared in The Penguin Book of the Contemporary British Short Story, Liberating the Canon, The Times Literary Supplement, and London Review of Books. She lives in London.
Praise For…
---
*A January Indie Next Pick, B&N Discover Pick, and Amazon Best Book of the Month*
 
"You wouldn't expect a comic novel about a dictionary to be a thriller too, but this one is. In fact, Eley Williams's hilarious new book, The Liar's Dictionary, is also a mystery, love story (two of them) and cliffhanging melodrama.…A thoughtful inquiry into truth and meaning."
—The New York Times Book Review
 
"An audacious, idiosyncratic dual love story about how language and people intersect and connect, and about how far we'll go to save what we're passionate about…Showcases a delight in language that evokes both Nabokov and—more on point with its mix of playfulness, profundity, warmth, and heart—Ali Smith."
—NPR
 
"Delightful…Underneath this novel's extremely bookish mystery is the idea that our identities are as improvisatory as the words we affix to them, and that even the dictionary, the most seemingly staid and impartial arbiter of truth, is an 'unreliable narrator.'"
—The Wall Street Journal

"A playful paean to lexicology…Although the book abounds in dramatic incident, its main focus, like the characters', is not actions but words, and 'the transformative power of proper attention paid to small things.'"—The New Yorker

"Plot is not why a reader should come to The Liar's Dictionary. One approaches it instead for highly charged neurotic situations and for Williams's adept word-geekery. Her esotericism is always on cheerful display." 
—The New York Times

"The Liar's Dictionary is the book I was longing for. So eudaemonical, so felicific and habile! A harlequinade of cachinnation! It's hilarious and smart and charming and I loved it. Read it. It's the book you're longing for."
—Andrew Sean Greer, 2018 Pulitzer Prize winner for Less

"An improbably enchanting, rollicking novel about two generations of put-upon London lexicographers, The Liar's Dictionary is positively intoxicated with the joy and wonder of language, both authentic and, often hilariously, counterfeit, and I can assure you that it's quite the contact high. Eley Williams brings erudition and playfulness—and lovely sweetness—to every page."
—Benjamin Dreyer, New York Times bestselling author of Dreyer's English 

"A virtuoso performance full of charm...It's simultaneously a love story, an office comedy, a sleuth mystery and a slice of gaslit late Victoriana...The Liar's Dictionary is a glorious novel—a perfectly crafted investigation of our ability to define words and their power to define us."
—The Guardian

"Perfectly calibrated…For a novel as finely tuned as this, to leave one with a sense of the intoxicating hopefulness of chance is its greatest achievement in a competitive field."
—Los Angeles Review of Books

"[An] incisive meditation on language…Williams interrogates the charged nexus where language 'meets' human experience."
—Chicago Review of Books 

"Comically inventive...The author combines a Nabokovian love of wordplay with an Ali Smith–like ability to create eccentric characters who will take up permanent residence in the reader's heart. This is a sheer delight for word lovers." 
—Publisher's Weekly (starred)

"An imaginative, funny, intriguing novel...Williams has created a supremely entertaining and edifying meditation on how language records and reflects how we see the world, and what we wish it could be." 
—BookPage

"A remarkable novel...Original and often very funny, The Liar's Dictionary is an offbeat exploration of both the delights of language and its limitations."
—Sunday Times (UK)