Is Everyone Hanging Out Without Me? (And Other Concerns) (Paperback)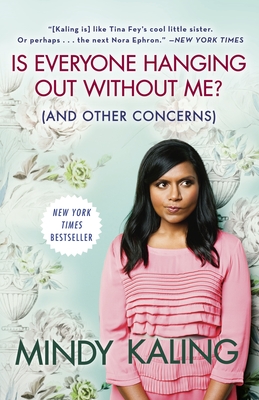 Find us on Bookshop.org to order!
Description
---
NEW YORK TIMES BESTSELLER •  In this hilarious instant classic, the creator of The Mindy Project and Never Have I Ever invites readers on a tour of her life and her unscientific observations on romance, friendship, and Hollywood.

"[Kaling is] like Tina Fey's cool little sister. Or perhaps . . . the next Nora Ephron."—The New York Times
 
Mindy Kaling has lived many lives: the obedient child of immigrant professionals, a timid chubster afraid of her own bike, a Ben Affleck–impersonating Off-Broadway performer and playwright, and, finally, a comedy writer and actress prone to starting fights with her friends and coworkers with the sentence "Can I just say one last thing about this, and then I swear I'll shut up about it?" 
 
Perhaps you want to know what Mindy thinks makes a great best friend (someone who will fill your prescription in the middle of the night), or what makes a great guy (one who is aware of all elderly people in any room at any time and acts accordingly), or what is the perfect amount of fame (so famous you can never get convicted of murder in a court of law), or how to maintain a trim figure (you will not find that information in these pages). If so, you've come to the right book, mostly!
 
With several conveniently placed stopping points for you to run errands and make phone calls, Is Everyone Hanging Out Without Me? proves that Mindy Kaling really is just a Girl Next Door—not so much literally anywhere in the continental United States, but definitely if you live in India or Sri Lanka.
 
Praise for Is Everyone Hanging Out Without Me?

"Where have you been all our lives, Mindy?"—Glamour

"Who wouldn't want to hang out with Mindy Kaling? . . . [Is Everyone Hanging Out Without Me?] is like a mash note to comedy nerds."—Time Out New York

"Very funny."—Boston Globe
About the Author
---
Mindy Kaling is an actor, writer, producer, and director. She currently writes and produces the Netflix original series Never Have I Ever, based on her own childhood. She also wrote, executive produced, and starred in the comedy series  The Mindy Project. Before The Mindy Project, Mindy was best known for her work on the critically acclaimed, Emmy Award–winning NBC show The Office. In addition to directing, producing, and portraying celebrity-obsessed Kelly Kapoor, Mindy wrote eighteen episodes of the series, including the Emmy-nominated episode "Niagara." Mindy was named one of Time magazine's 100 most influential people in the world in 2012. In 2014, she was named one of Glamour's women of the year.
Praise For…
---
"Like listening to a likably gabby friend chatter happily over generously poured glasses of red wine."—Washington Post

"[Kaling's] comedic chops certainly shine throughout the book—as if we need more proof of her talent."—HuffPost

"Kaling doles out neurotic charm and hilarious every-woman musings."—Elle

"She's like Tina Fey's cool little sister. Or perhaps… the next Nora Ephron." —The New York Times
 
"The fashion opinions of Kelly Kapoor mixed with a Miss Manners-esque advice column."—Entertainment Weekly
 
"If you love Kelly and think the three minutes or so allotted her on episodes of The Office are too few, you can take home Mindy."—The New Yorker
 
"Is anyone else kind of sold on the genius title alone?" —Nylon

"Is Everyone Hanging Out Without Me? (And Other Concerns) is hilarious and relatable—just like Kaling's classic Tweets." —Ladies Home Journal